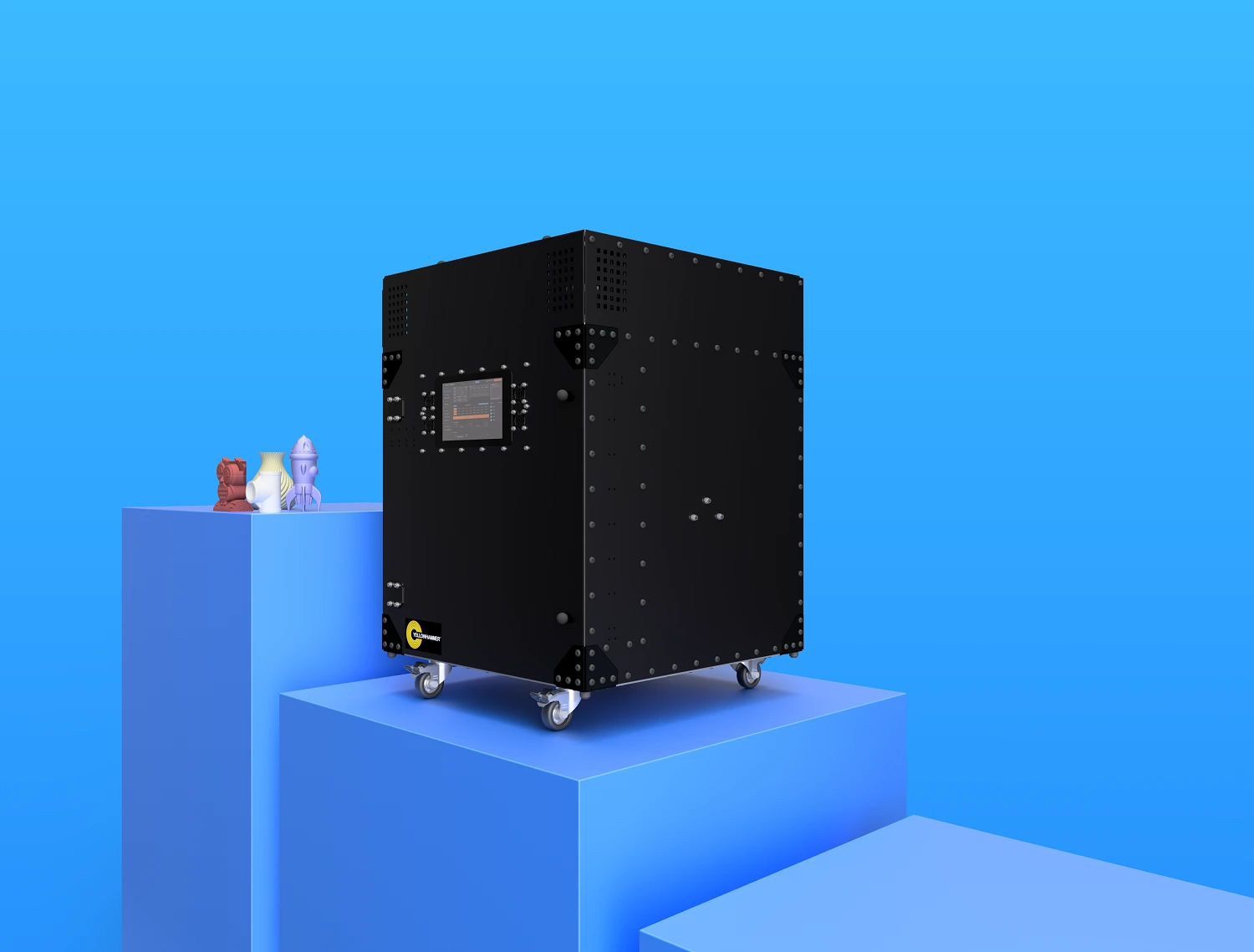 YellowPrinter™ fast & precise FDM 3D printer
YellowPrinter™ has a closed, ventilated and filtered heating chamber, which gives you the opportunity to use most of the filaments available on the market.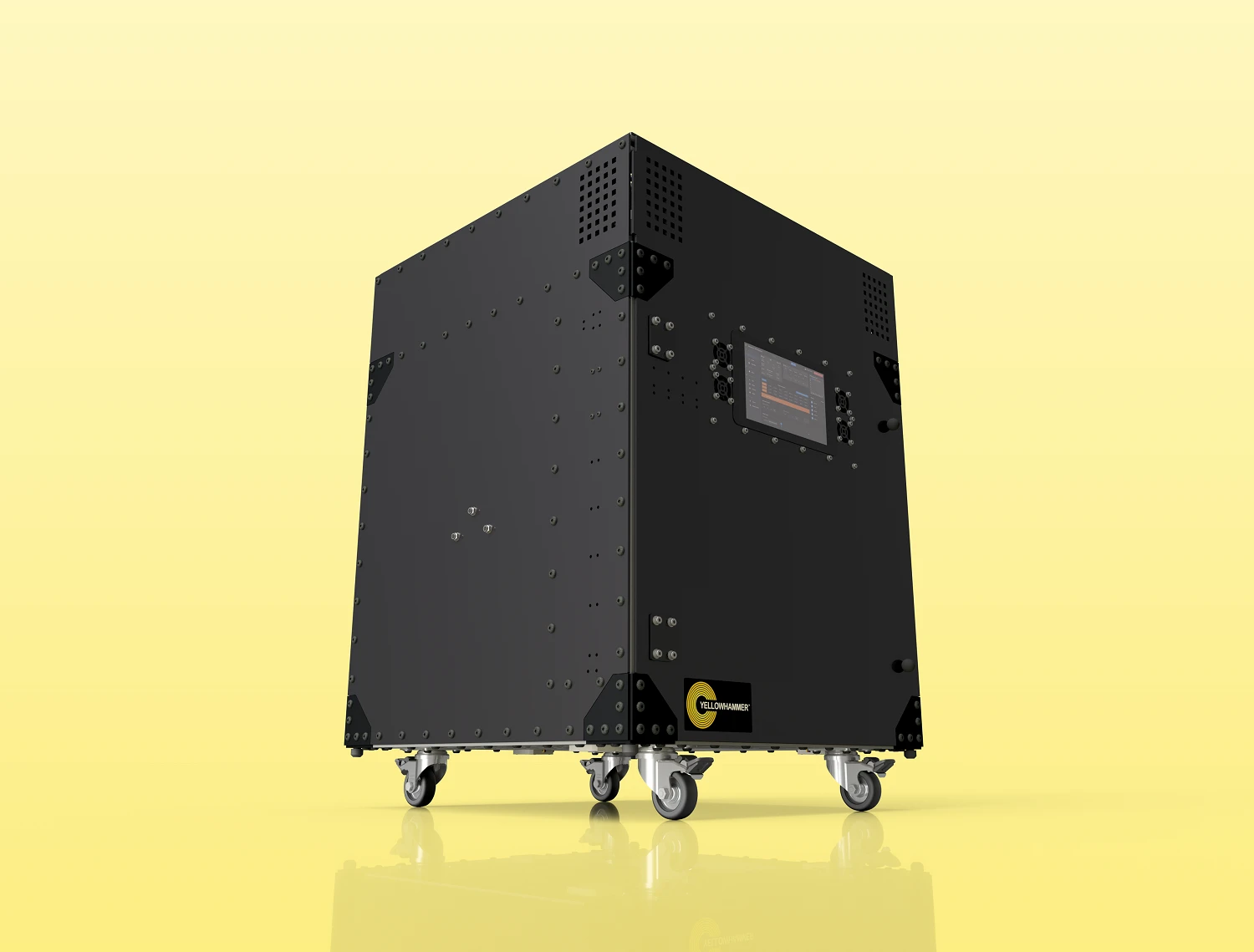 Our printer has a build volume of 260mm x 310mm (up to 310mm x 310mm with smaller extruder), thanks to which it is possible to print very large details. Despite such a large working area, the printer has a footprint of only 520mm x 520mm and a height of 775mm, so you can easily find a place for it in your working space.
Enclosed & ventilated chamber
Two HEPA filters absorbs over 99% of 3D printing emissions, including very small particles and isolate from external environment. Inside cover we installed electric fan with adjustable speed which guarantee appropriate air circulation.
In addition, the closed chamber has a soundproofing foam that reduces the noise level by 90%.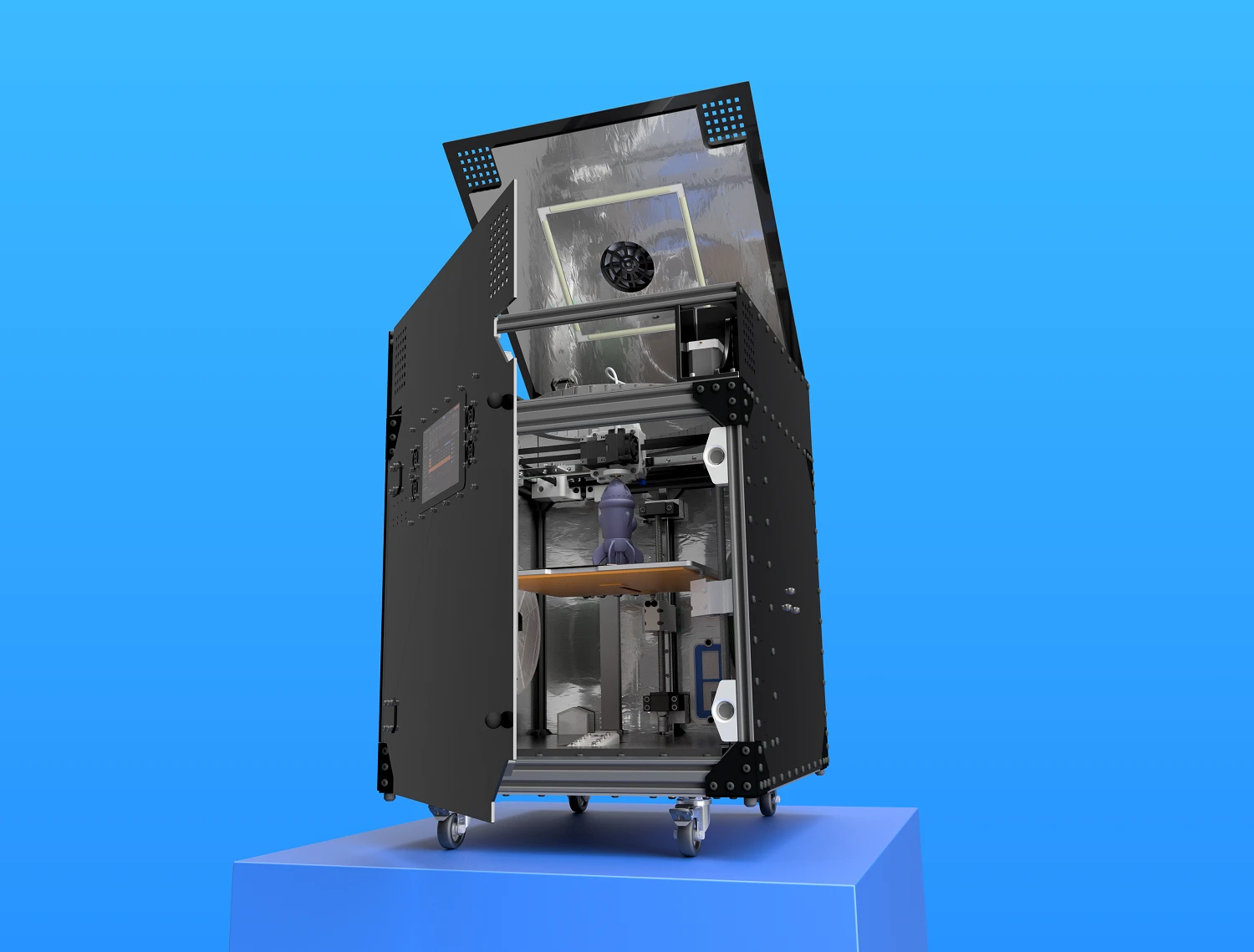 Kinematically-coupled heatbed
Do you have problems getting prints to stick properly? You don't want to waste time leveling the table? Our printer will save you a lot of time thanks to the use of a kinematically-coupled 3D printer bed, holded in place by neodymium magnets.
We use custom high-precision ball screws, which, compared to the Tr-type screws used in competing products, are characterized by much better performance, no play and less wear over time. Thanks to them, your prints will be even better.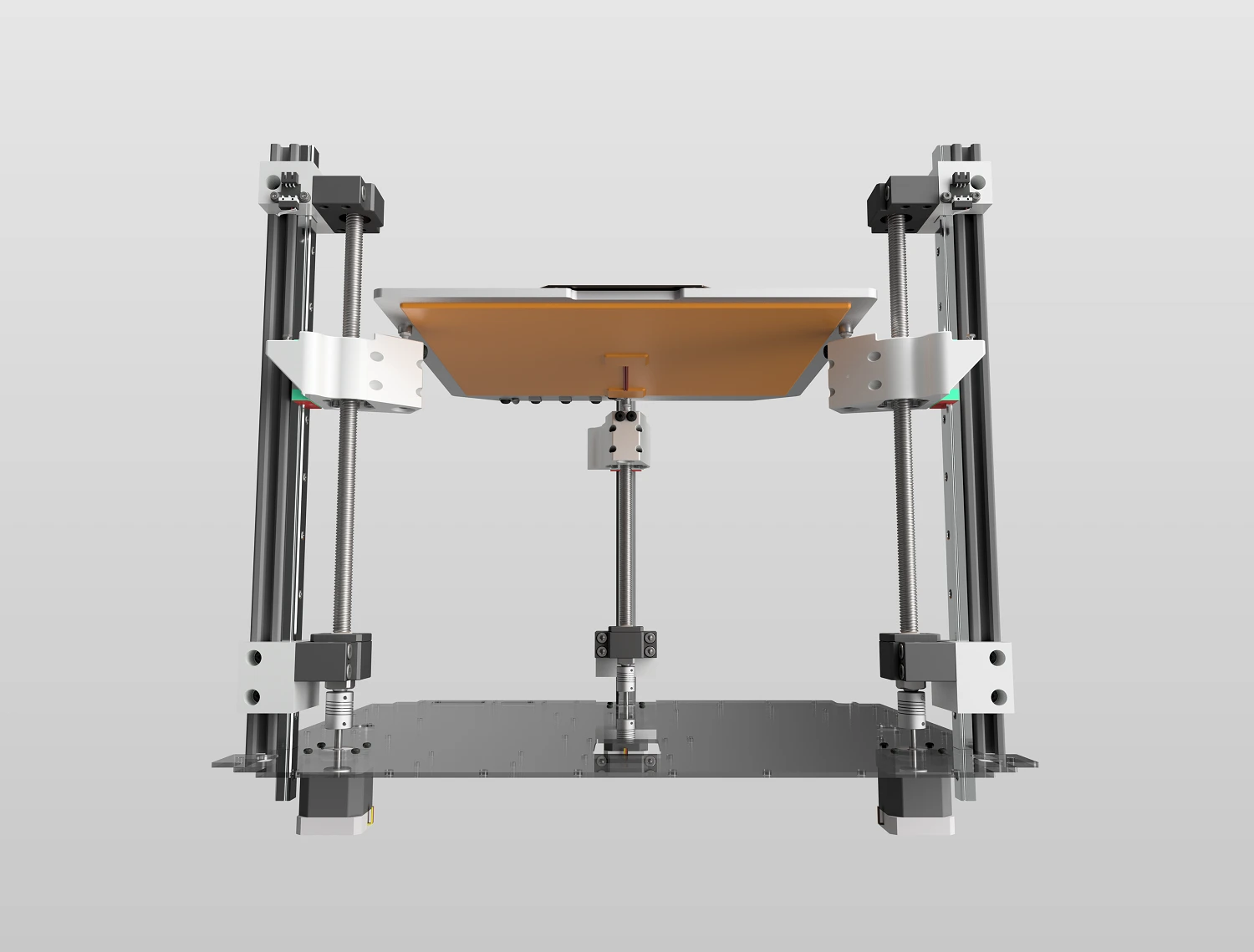 Removable 3D printing bed
For your convenience, we designed removable printing bed to make separation of the print outside from the working area possible.
We are using 3rd party 3DM Flex+™ Powder Coated PEI Flex Build Plate w/ Magnetic Base manufactured by 3DMaker Engineering.
Build plate has two sides:
Side A: Smooth PEI Build Surface
Side B: Powder Coated PEI For Enhanced Grip
It works great with PLA, ABS, PETG, Carbon Fiber, Nylon, PC, PVA, Flexibles, and more!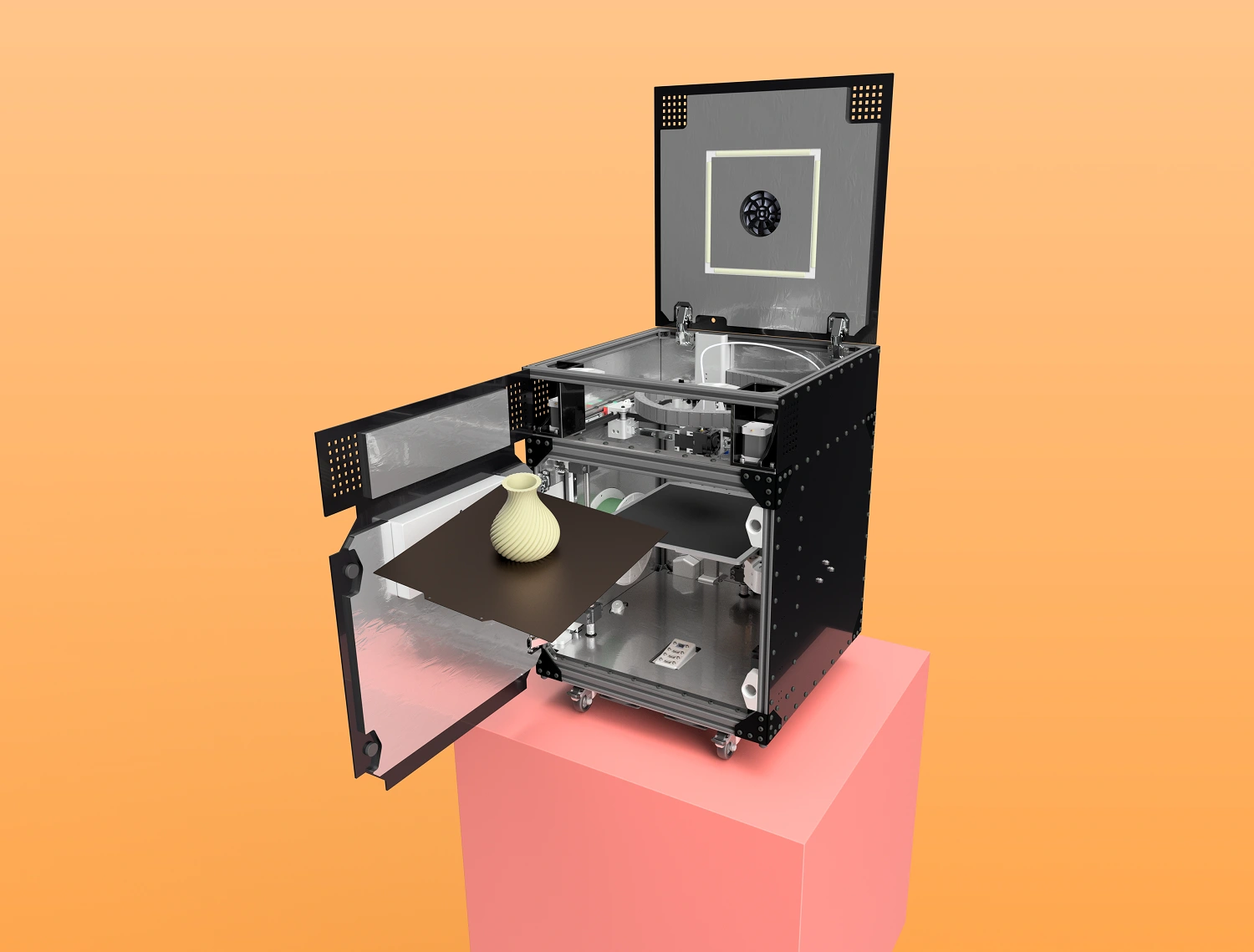 Sturdy and durable CORE XY HTD 3M kinematic
YellowPrinter ™ is equipped with a MGN15 Linear Rails which are characterized by high precision and low wear over time. By placing them in a filtered chamber, they do not get dirty with time, as is the case with competing products.
We use 9mm Optibelt HTD 3M which are more than 2 times stronger than GT2 belts used in other printers. This is a key feature if you want to achieve prints with high accuracy, perfect surface quality and repeatability in time.
Optibelt HTD 3M (9mm) specification:
Permissible load ( at elongation 0,45%) 300N
Breaking strength 1690N
We use high performance Nanotec NEMA 17 60 mm stepper motors on XY on which you should achieve print speeds of up to 184 mm/sec without sacrificing print quality.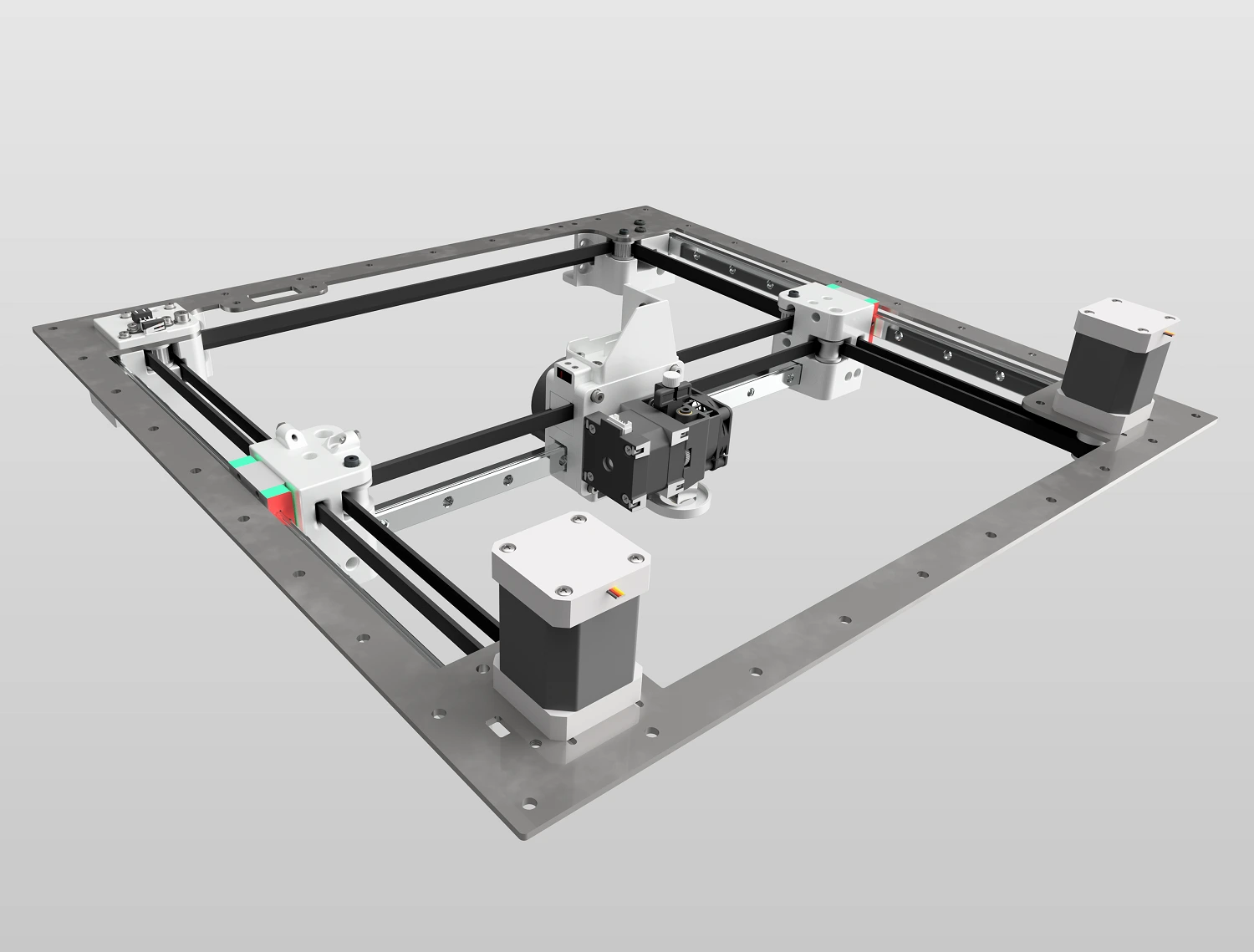 Clean design & hot zone separation
Each electronic element has its own housing, which protects it from overheating in the heating chamber.
All the bundles are placed in cable chain to keep order inside the chamber.
YellowPrinter ™ is equipped with a self-adhesive 9 mm thick rubber insulation with an additional aluminum layer, which has self-extinguishing properties and guarantees excellent thermal insulation and helps to reduce noise generated during 3D printing process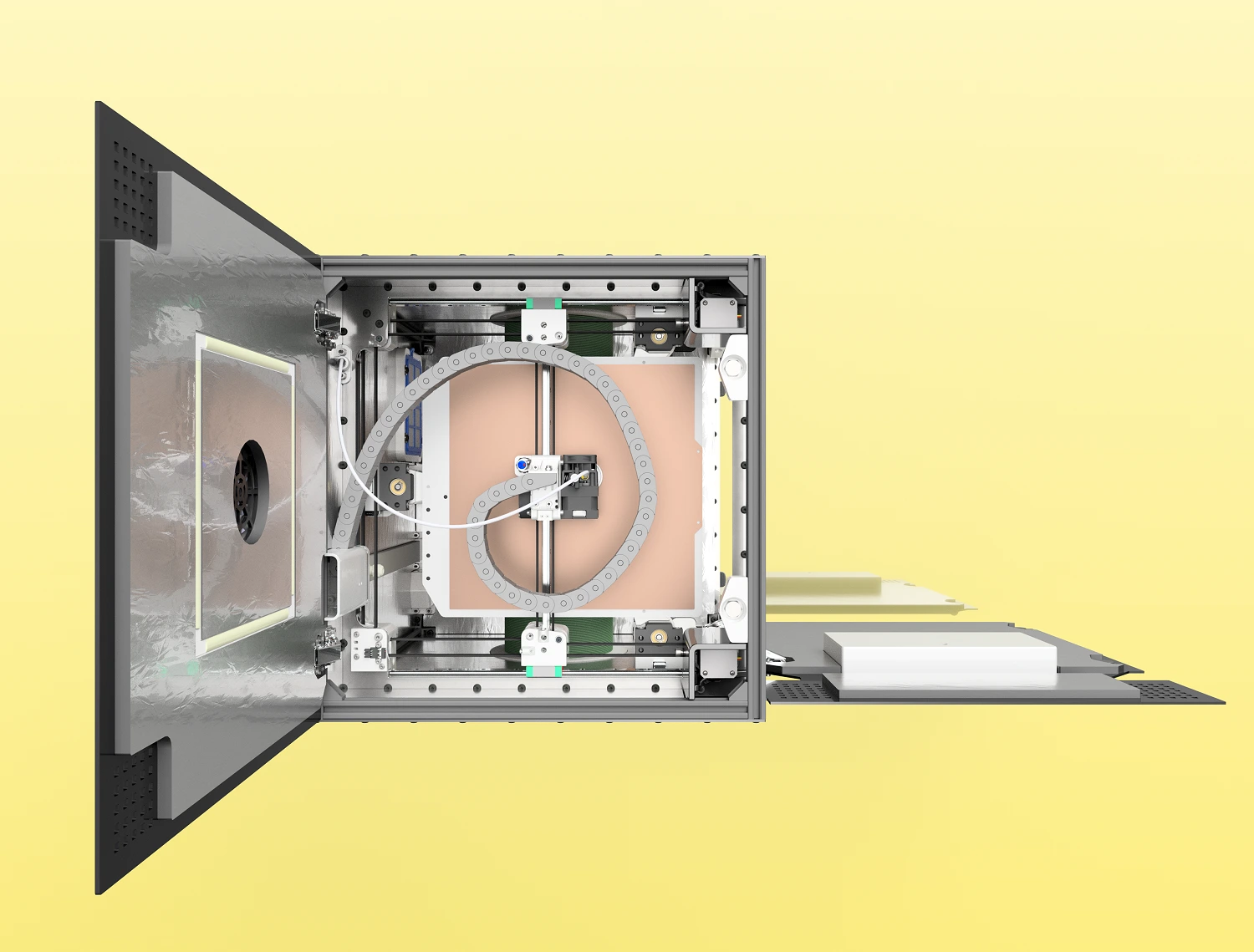 Some other features
Do you know that YellowPrinter ™ has many outstanding features? Look at this:
Web server for online control over you printer.
Duet 3 Mainboard
RepRapFirmware and DuetWebControl.
E3D Hemera extruder.
Camera module for capturing progress of you 3D printing process.
LED lights.
7 inch, 800 x 480 px touch screen.
750W AC Keenovo silicone heater pad controlled by 40A SSR.
Two filament spools inside.
Magnetic doors.
Magnetic printing surface.
Meanwell 750W 24V 31.3A power supply.
Four Blicle locking wheels with a cushioning layer.
Silent air cooling by PWM 92MM fans.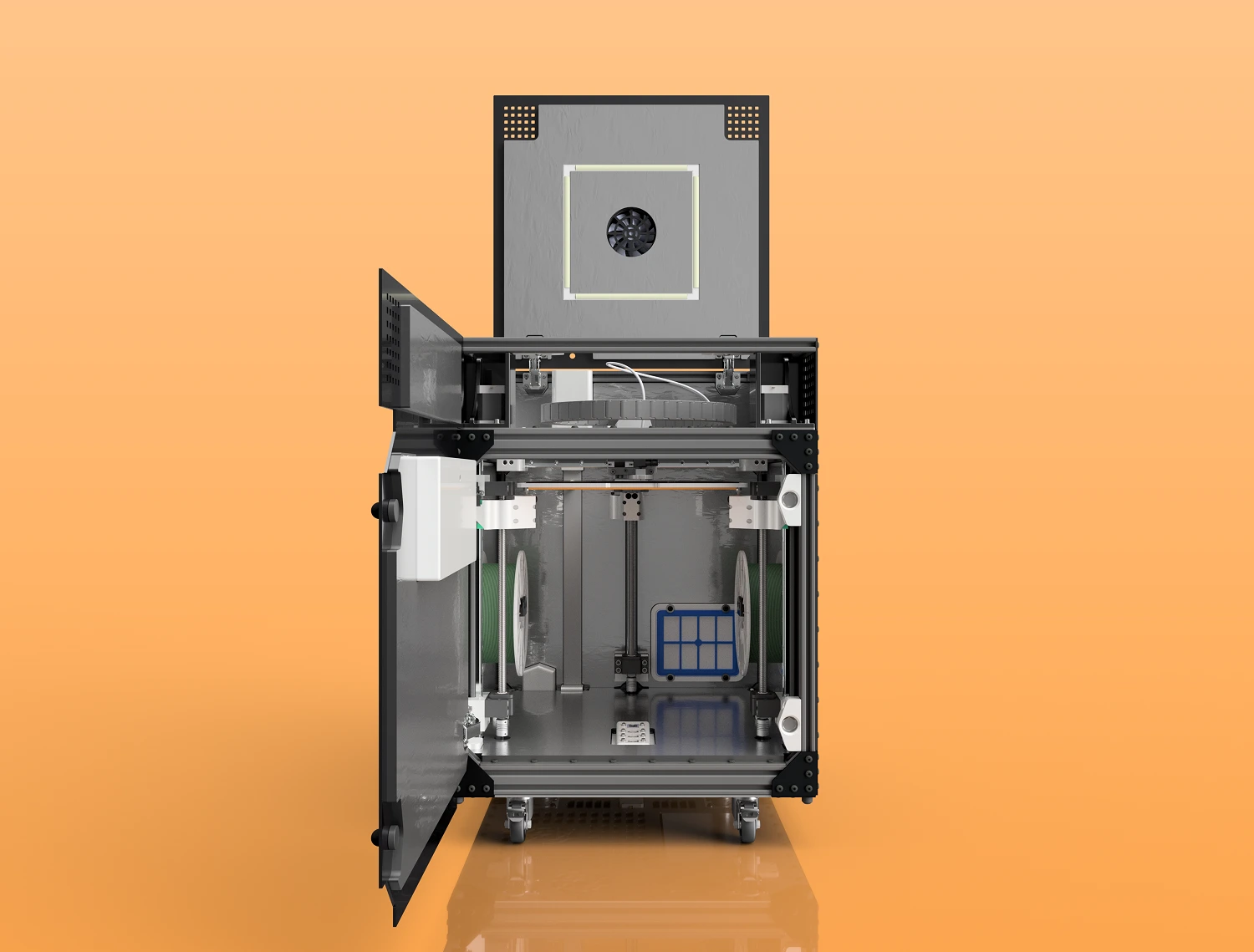 Rigid X carriage for E3D Hemera
I like the simple design and reliability of E3D Hemera Extruder, that is why I decided to put it into YellowPrinter ™ project.
E3D Hemera is a compact, dual-drive extrusion system which combines V6 HotEnd with an all-new filament drive to form a highly responsive direct drive extrusion system – providing unrivalled performance with flexible filaments.
Hemera constrains your filament like no other HotEnd/Extruder combination. This makes flexible filaments such as TPU considerably easier to print with, and dramatically increases the responsiveness when using standard materials like PLA, PETG or ABS.
High efficient air cooling
The cooling of the hotend has been designed in such a way as to do it efficiently without disturbing the material flow through the nozzle. For this purpose, advanced CFD flow analysis methods were applied and compared with experimental results.
For the Mesh Bed Compensation, we use the LJ12A3-4-Z/BX proximity inductive sensor, which is characterized by outstanding measurement accuracy.